In the new publication by scientists from CRC project A02 they decipher the different states of Polyglutamine during aggregation using time-resolved temperature-jump (T-jump) infrared (IR) spectroscopy.
Abstract
Polyglutamine (polyQ) diseases are caused by misfolding and aggregation of expanded polyQ tracts in the affected protein. PolyQ fibrils have been studied in detail; however, less is known about oligomeric precursor states. By a combination of time-resolved temperature-jump (T-jump) infrared (IR) spectroscopy and an appropriately tailored polyQ model peptide, we succeeded in disentangling conformational dynamics in the heterogeneous ensemble of states evolving during aggregation. Individual structural elements could be differentiated by IR-specific signatures, i.e., hairpin monomers, β-structured oligomers, and disordered structure. Submillisecond dynamics were observed for early oligomeric states in contrast to the slow dynamics of fibril growth. We propose that a high structural flexibility of oligomers is required to initiate fibril formation, but not after a fibrillar structure has consolidated and the fibril just grows. Our study reveals that structural flexibility changes at different stages in the aggregation process, from fibril initiation to fibril growth.
April, 15, 2022
Lockdown, a selective small-molecule inhibitor of the integrin phosphatase PPM1F, blocks cancer cell invasion.
Tanja M Grimm, Marleen Herbinger, Lena Krüger, Silke Müller, Thomas U Mayer, and Christof R Hauck
Cell Chem Biol
19 April 2022, online
Scientists from CRC969 project B06 report on their identification of a small-molecule inhibitor of the phosphatase PPM1F which controls cell adhesion and which when upregulated is involved in cancer biology.
Abstract
Phosphatase PPM1F is a regulator of cell adhesion by fine-tuning integrin activity and actin cytoskeleton structures. Elevated expression of this enzyme in human tumors is associated with high invasiveness, enhanced metastasis, and poor prognosis. Thus, PPM1F is a target for pharmacological intervention, yet inhibitors of this enzyme are lacking. Here, we use high-throughput screening to identify Lockdown, a reversible and non-competitive PPM1F inhibitor. Lockdown is selective for PPM1F, because this compound does not inhibit other protein phosphatases in vitro and does not induce additional phenotypes in PPM1F knockout cells. Importantly, Lockdown-treated glioblastoma cells fully re-capitulate the phenotype of PPM1F-deficient cells as assessed by increased phosphorylation of PPM1F substrates and corruption of integrin-dependent cellular processes. Ester modification yields LockdownPro with increased membrane permeability and prodrug-like properties. LockdownPro suppresses tissue invasion by PPM1F-overexpressing human cancer cells, validating PPM1F as a therapeutic target and providing an access point to control tumor cell dissemination.
March, 18, 2022
Generation and characterization of site-specifically mono-ubiquitylated p53.
Alexandra Julier, Vanessa Radtke, Andreas Marx, and Martin Scheffner
ChemBiochem
18 March 2022, published
Researchers from CRC969 project B03 analyzed the effect of mono-ubiquitylation of the tumor suppressor p53 at specific positions on its properties.
Abstract
The tumor suppressor p53 is regulated by various posttranslational modifications including different types of ubiquitylation, which exert distinct effects on p53. While modification by ubiquitin chains targets p53 for degradation, attachment of single ubiquitin moieties (mono-ubiquitylation) affects the intracellular location of p53 and/or its interaction with chromatin. However, how this is achieved at the molecular level remains largely unknown. Similarly, since p53 can be ubiquitylated at different lysine residues, it remains unclear if the eventual effect depends on the position of the lysine modified. Here, we combined genetic code expansion with oxime ligation to generate p53 site-specifically mono-ubiquitylated at position 120. We found that mono-ubiquitylation at this position neither interferes with p53 ubiquitylation by the E3 ligases HDM2 and E6AP in complex with the viral E6 oncoprotein nor affects p53 binding to a cognate DNA sequence. Thus, ubiquitylation per se does not affect physiologically relevant properties of p53.
Mechanism of signal sequence handover from NAC to SRP on ribosomes during ER-protein targeting.
Ahmad Jomaa, Martin Gamerdinger, Hao-Hsuan Hsieh, Annalena Wallisch,Viswanathan Chandrasekaran, Zeynel Ulusoy, Alain Scaiola, Ramanujan S. Hegde, Shu-ou Shan,Nenad Ban, and Elke Deuerling
Science
25 February 2022, published
Researchers from CRC969 project A07 in collaboration with scientists from the ETH Zurich, the MRC Laboratory in Cambridge and the Caltech in Pasadena solve the long-standig riddle on how NAC controls the sorting of nascent polypeptides to their correct destination inside the cell.
Abstract
The nascent polypeptide-associated complex (NAC) interacts with newly synthesized proteins at the ribosomal tunnel exit and competes with the signal recognition particle (SRP) to prevent mistargeting of cytosolic and mitochondrial polypeptides to the endoplasmic reticulum (ER). How NAC antagonizes SRP and how this is overcome by ER targeting signals are unknown. Here, we found that NAC uses two domains with opposing effects to control SRP access. The core globular domain prevented SRP from binding to signal-less ribosomes, whereas a flexibly attached domain transiently captured SRP to permit scanning of nascent chains. The emergence of an ER-targeting signal destabilized NAC's globular domain and facilitated SRP access to the nascent chain. These findings elucidate how NAC hands over the signal sequence to SRP and imparts specificity of protein localization.
see also the Press release by the University of Konstanz
February, 18, 2022
PolyQ aggregation studied by model peptides with intrinsic tryptophan fluorophores.
Ho-Wah Siu, Paul Stritt, Heng Zhao, and Karin Hauser
Biophysical Chemistry, published online
PolyQ-rich hairpin peptides were designed by scientists from CRC969 project A02 to analyze the effect of the number of glutamines present on the structural stability and aggregation of polyQ repeats.
Abstract
Polyglutamine (polyQ) model peptides are ideally suited to analyze the involvement of glutamines in the disease-related aggregation onset. Here we use a template-assisted design of polyQ-rich hairpin peptides (Trpzip-Qn) to monitor structural stability with fluorescence spectroscopy. The hairpin model imitates the monomeric motif of a polyQ fibril and is stabilized by hydrophobic interactions of two cross-strand pairs of tryptophans (Trps) which are used as fluorophores to report on structural changes. The Trps also frame the polyQ repeats located on each hairpin strand with a different number of glutamines (Qn). Single-stranded sequences mimic the unfolded state and were used as references to differentiate the intrinsic fluorescence signal from the spectral effect caused by structural changes. Temperature-induced hairpin unfolding was monitored by the spectral shift of the Trp fluorescence signal and transition temperatures were determined. The magnitude of the spectral shift indicates the degree of structural disorder. We observed that a longer polyQ repeat is more disordered and weakens the cross-strand Trp-Trp interactions resulting in a decrease of the spectral shift. Aggregation to a fibrillar and more ordered structure shows an increase of the spectral shift. In addition, a band at 280 nm occurs in the spectrum which clearly correlates with the turbidity of the sample and is attributed to scattering of larger aggregated structures. Our study reveals that the number of glutamines, pH and temperature affect structural stability and aggregation of polyQ repeats.
Cell Rep
16 March 2021, published online
CRC969 scientists from projects A06 and C01 teamed up to analyze the role of the ubiquitin-like modifier FAT10 in the control of the E3 ligase Parkin.
Abstract
Parkin is an E3 ubiquitin ligase belonging to the RING-between-RING family. Mutations in the Parkin-encoding gene PARK2 are associated with familial Parkinson's disease. Here, we investigate the interplay between Parkin and the inflammatory cytokine-induced ubiquitin-like modifier FAT10. FAT10 targets hundreds of proteins for degradation by the 26S proteasome. We show that FAT10 gets conjugated to Parkin and mediates its degradation in a proteasome-dependent manner. Parkin binds to the E2 enzyme of FAT10 (USE1), auto-FAT10ylates itself, and facilitates FAT10ylation of the Parkin substrate Mitofusin2 in vitro and in cells, thus identifying Parkin as a FAT10 E3 ligase. On mitochondrial depolarization, FAT10ylation of Parkin inhibits its activation and ubiquitin-ligase activity causing impairment of mitophagy progression and aggravation of rotenone-mediated death of dopaminergic neuronal cells. In conclusion, FAT10ylation inhibits Parkin and mitophagy rendering FAT10 a likely inflammation-induced exacerbating factor and potential drug target for Parkinson's disease.
February, 26, 2021
Snapshots of native pre-50S ribosomes reveal a biogenesis factor network and evolutionary specialization.
Rainer Nikolay, Tarek Hilal, Sabine Schmidt, Bo Qin, David Schwefel, Carlos H Vieira-Vieira, Thorsten Mielke, Jörg Bürger, Justus Loerke, Kazuaki Amikura, Timo Flügel, Takuya Ueda, Matthias Selbach, Elke Deuerling, and Christian M T Spahn
Mol Cell
26 February 2021, published online
In a collaborative effort scientists from CRC969 project A01 together with researchers from different research institutes in Berlin characterized a network of biogenesis factors involved in the maturation of 50S ribosomes.
Abstract
Ribosome biogenesis is a fundamental multi-step cellular process that culminates in the formation of ribosomal subunits, whose production and modification are regulated by numerous biogenesis factors. In this study, we analyze physiologic prokaryotic ribosome biogenesis by isolating bona fide pre-50S subunits from an Escherichia coli strain with the biogenesis factor ObgE, affinity tagged at its native gene locus. Our integrative structural approach reveals a network of interacting biogenesis factors consisting of YjgA, RluD, RsfS, and ObgE on the immature pre-50S subunit. In addition, our study provides mechanistic insight into how the GTPase ObgE, in concert with other biogenesis factors, facilitates the maturation of the 50S functional core and reveals both conserved and divergent evolutionary features of ribosome biogenesis between prokaryotes and eukaryotes.
December, 21, 2020
A ligand selection strategy identifies chemical probes targeting the proteases of SARS-CoV-2.
Lilian Peñalver, Philipp Schmid, Dávid Szamosvári, Stefan Schildknecht, Christoph Globisch, Kevin Sawade, Christine Peter, and Thomas Böttcher

Angew Chem Int Ed
21 December 2020, published online
In a collaborative effort researchers from CRC969 projects B09 and C06 developed activity-based probes targeting two cysteine proteases of SARS-CoV-2.
Abstract
Activity-based probes are valuable tools for chemical biology. However, finding probes that specifically target the active site of an enzyme remains a challenging task. Here we present a ligand selection strategy that allows to rapidly tailor electrophilic probes to a target of choice and showcase its application for the two cysteine proteases of SARS-CoV-2 as proof of concept. The resulting probes were specific for the active site labelling of 3CL pro and PL pro with sufficient selectivity in a live cell model as well as in the background of a native human proteome. Exploiting the probes as tools for competitive profiling of a natural product library identified salvianolic acid derivatives as promising 3CL pro inhibitors. We anticipate that our ligand selection strategy will be useful to rapidly develop customized probes and discover inhibitors for a wide range of target proteins also beyond corona virus proteases.
October, 28, 2020
Template-assisted design of monomeric polyQ models to unravel the unique role of glutamine side chains in disease-related aggregation.
Hoh-Wah Siu, Benjamin Heck, Michael Kovermann and Karin Hauser
Chem Sci
28 October 2020, published online
CRC scientists from Project A02 and Project B09 collaborated to elucidate the role of glutamine side chains in the aggregation of monomeric polyQ model sequences.
Abstract
Expanded polyglutamine (polyQ) sequences cause numerous neurodegenerative diseases which are accompanied by the formation of polyQ fibrils. The unique role of glutamines in the aggregation onset is undoubtedly accepted and a lot structural data of the fibrils have been acquired, however side-chain specific structural dynamics inducing oligomerization are not well understood yet. To analyze spectroscopically the nucleation process, we designed various template-assisted glutamine-rich β–hairpin monomers mimicking the structural motif of a polyQ fibril. In a top-down strategy, we use a template which forms a well-defined stable hairpin in solution, insert polyQ-rich sequences into each strand and monitor the effects of individual glutamines by NMR, CD and IR spectroscopic approaches. The design was further advanced by alternating glutamines with other amino acids (T, W, E, K), thereby enhancing the solubility and increasing the number of cross-strand interacting glutamine side chains. Our spectroscopic studies reveal a decreasing hairpin stability with increased glutamine content and demonstrate the enormous impact of only a few glutamines – far below the disease threshold – to destabilize structure. Furthermore, we could access sub-ms conformational dynamics of monomeric polyQ-rich peptides by laser-excited temperature-jump IR spectroscopy. Both, the increased number of interacting glutamines and higher concentrations are key parameters to induce oligomerization. Concentration-dependent time-resolved IR measurements indicate an additional slower kinetic phase upon oligomer formation. The here presented peptide models enable spectroscopic molecular analyses to distinguish between monomer and oligomer dynamics in the early steps of polyQ fibril formation and in a side-chain specific manner.
August, 14, 2020
The ubiquitin-like modifier FAT10 inhibits retinal PDE6 activity and mediates its proteasomal degradation.
Annika Böhm, Johanna Bialas, Nicola Catone, Almudena Sacristán-Reviriego, Jacqueline van der Spuy, Marcus Groettrup and Annette Aichem
J Biol Chem
14 August 2020, published online
Researchers from CRC Project C01 in collaboration with scientists from the University College London reveal the control of the retinal cGMP phosphodiesterase PDE6 by the ubiquitin-like modifier FAT10.
Abstract
The retina-specific chaperone AIPL1 is essential for the correct assembly of phosphodiesterase 6 (PDE6), which is a pivotal effector enzyme for phototransduction and vision because it hydrolyzes cGMP. AIPL1 interacts with the cytokine-inducible ubiquitin-like modifier FAT10 that gets covalently conjugated to hundreds of proteins and targets its conjugation substrates for proteasomal degradation, but whether FAT10 affects PDE6 function or turnover is unknown. Here, we show that FAT10 mRNA is expressed in human retina and identify rod PDE6 as a retina-specific substrate of FAT10 conjugation. We found that AIPL1 stabilizes the FAT10 monomer as well as the PDE6-FAT10 conjugate. Additionally, we elucidated the functional consequences of PDE6 FAT10ylation. On the one hand, we demonstrate that FAT10 targets PDE6 for proteasomal degradation by formation of a covalent isopeptide linkage. On the other hand, FAT10 inhibits PDE6 cGMP hydrolyzing activity by non-covalently interacting with the PDE6 GAFa and catalytic domains. Therefore, FAT10 may contribute to loss of PDE6 and, as a consequence, degeneration of retinal cells in eye diseases linked to inflammation and inherited blindness causing mutations in AIPL1.
May, 1, 2020
Real-time monitoring of PARP1-dependent PARylation by ATR-FTIR spectroscopy.
Annika Krüger, Alexander Bürkle, Karin Hauser and Aswin Mangerich
Nat Commun
1 May 2020, published online
Scientists from CRC Project A02 and the biology department of the University of Konstanz report on their findings on PARylation of DNA analyzed in real-time using advanced infrared spectroscopic methods. See also here.
Abstract
Poly-ADP-ribosylation (PARylation) is a fully reversible post-translational modification with key roles in cellular physiology. Due to the multi-domain structure of poly(ADP-ribose) polymerase-1 (PARP1) and the highly dynamic nature of the PARylation reaction, studies on the biochemical mechanism and structural dynamics remain challenging. Here, we report label-free, time-resolved monitoring of PARP1-dependent PARylation using ATR-FTIR spectroscopy. This includes PARP1 activation by binding to DNA strand break models, NAD+ substrate binding, PAR formation, and dissociation of automodified PARP1 from DNA. Analyses of PARP1 activation at different DNA models demonstrate a strong positive correlation of PARylation and PARP1 dissociation, with the strongest effects observed for DNA nicks and 3' phosphorylated ends. Moreover, by examining dynamic structural changes of PARP1, we reveal changes in the secondary structure of PARP1 induced by NAD+ and PARP inhibitor binding. In summary, this approach enables holistic and dynamic insights into PARP1-dependent PARylation with molecular and temporal resolution.
April, 7, 2020
The length of a ubiquitin chain is a determinant for selective recognition by ubiquitin-binding proteins.
Joachim Lutz, Eva Höllmüller, Martin Scheffner, Andreas Marx and Florian Stengel
Angew Chem Int Ed
7 April 2020, published online
CRC969 scientists from Project A06 and Project B03 discovered that the length of a ubiquitin chain attached to a protein is of crucial importance for its recognition by ubiquitin binding proteins.
Abstract
The attachment of differently linked ubiquitin (Ub) chains of varying length to proteins is a prevalent posttranslational modification in eukaryotic cells. The fate of a modified protein is determined by Ub‐binding proteins (UBPs) that interact with Ub chains in a linkage‐selective manner. Therefore, proteome‐wide interaction studies using differently linked Ub chains have become an increased focus of research activities. However, the impact and functional consequences of chain length on the binding selectivity of UBPs remain mostly elusive, due to a lack of available tools and sufficient amounts of pure, length‐defined Ub chains. Here, we generated linkage‐ and length‐defined Ub chains using click‐chemistry and Gel Eluted Liquid Fraction Entrapment Elelectrophoresis (GELFrEE) fractionation and employed such defined polymers in affinity‐based enrichment assays to identify length‐ and linkage‐selective interactors on a proteome‐wide scale. For the first time, this revealed that the length of a Ub chain has generally a major impact on its ability to be selectively recognized by UBPs.
February, 18, 2020
Proteome-wide structural probing of low-abundant protein interactions by cross-linking mass spectrometry.
Julius Fürsch, Kai-Michael Kammer, Stefan G. Kreft, Martin Beck and Florian Stengel
Anal Chem
18 February 2020, published online
Researchers from Project A06 together with scientists from the EMBL Heidelberg report about their achievements in probing of of low-abundant proteins by cross-linking mass spectrometry.
Abstract
Proteome-wide cross-linking studies have spurred great interest as they facilitate structural probing of protein interactions in living cells and organisms. However, current studies have a bias for high-abundant proteins. In this study we demonstrate both experimentally and by a kinetic model that this bias is also caused by the propensity of cross-links to preferentially form on high abundant proteins and not by the inability to detect cross-links due to limitations in current technology. We further show, by using both an in vitro mimic of a crowded cellular environment and eukaryotic cell lysates, that parameters optimized toward a pseudo first order kinetics model result in a significant increase in the detection of lower-abundant proteins on a proteome-wide scale. Our study therefore explains the cause of a major limitation in current proteome-wide cross-linking studies and demonstrates how to address a larger part of the proteome by cross-linking.
January, 21, 2020
Competitive metabolite profiling of natural products reveals subunit specific inhibitors of the 20S proteasome
Atul Pawar, Michael Basler, Heike Goebel, Gerardo Omar Alvarez Salinas, Marcus Groettrup and Thomas Böttcher
ACS Cent Sci
21 January 2020, published online
In a collaborative effort by CRC scientists from Project C06 and Project C01 inhibitors of the 20S proteasome were indentified.
Abstract
We have developed a syringolin-based chemical probe and explored its utility for the profiling of metabolite extracts as potent inhibitors of the 20S proteasome. Activity-guided fractionation by competitive labeling allowed us to isolate and identify glidobactin A and C as well as luminmycin A from a Burkholderiales strain. The natural products exhibited unique subunit specificities for the proteolytic subunits of human and mouse constitutive and immunoproteasome in the lower nanomolar range. In particular, glidobactin C displayed an unprecedented β2/β5 coinhibition profile with single-digit nanomolar potency in combination with sufficiently high cell permeability. These properties render glidobactin C a promising live cell proteasome inhibitor with potent activity against human breast cancer cell lines and comparably low immunotoxicity.
December, 27, 2019
Conformational and functional characterization of artificially conjugated non-canonical ubiquitin dimers
Tobias Schneider, Andrej Berg, Zeynel Ulusoy, Martin Gamerdinger, Christine Peter and Michael Kovermann
Sci Rep
27 December 2019, published online
By combining NMR spectrocopy with MD simulations researchers from Project A07 and Project B09 characrterized non-canonical ubiquitin dimers.
Abstract
Ubiquitylation is an eminent posttranslational modification referring to the covalent attachment of single ubiquitin molecules or polyubiquitin chains to a target protein dictating the fate of such labeled polypeptide chains. Here, we have biochemically produced artificially Lys11-, and Lys27-, and Lys63-linked ubiquitin dimers based on click-chemistry generating milligram quantities in high purity. We show that the artificial linkage used for the conjugation of two ubiquitin moieties represents a fully reliable surrogate of the natural isopeptide bond by acquiring highly resolved nuclear magnetic resonance (NMR) spectroscopic data including ligand binding studies. Extensive coarse grained and atomistic molecular dynamics (MD) simulations allow to extract structures representing the ensemble of domain-domain conformations used to verify the experimental data. Advantageously, this methodology does not require individual isotopic labeling of both ubiquitin moieties as NMR data have been acquired on the isotopically labeled proximal moiety and complementary MD simulations have been used to fully interpret the experimental data in terms of domain-domain conformation. This combined approach intertwining NMR spectroscopy with MD simulations makes it possible to describe the conformational space non-canonically Lys11-, and Lys27-linked ubiquitin dimers occupy in a solution averaged ensemble by taking atomically resolved information representing all residues in ubiquitin dimers into account.
November, 08, 2019
Plant Physiol
08 November 2019, published online
CRC 969 scientists from Project A05 and former Project C02 have developed synthetic riboswitches as tools for regulation of nuclear gene expression in plants.
Abstract
Riboswitches are small cis-regulatory RNA elements that regulate gene expression by conformational changes in response to ligand binding. Synthetic riboswitches have been engineered as versatile and innovative tools for gene regulation by external application of their ligand in prokaryotes and eukaryotes. In plants, synthetic riboswitches were used to regulate gene expression in plastids, but the application of synthetic riboswitches for the regulation of nuclear-encoded genes in planta remains to be explored. Here, we characterize the properties of a theophylline-responsive synthetic aptazyme for control of nuclear-encoded transgenes in Arabidopsis (Arabidopsis thaliana). Activation of the aptazyme, inserted in the 3′ UTR of the target gene, resulted in rapid self-cleavage and subsequent decay of the mRNA. This riboswitch allowed reversible, theophylline-dependent down-regulation of the GFP reporter gene in a dose- and time-dependent manner. Insertion of the riboswitch into the ONE HELIX PROTEIN1 gene allowed complementation of ohp1 mutants and induction of the mutant phenotype by theophylline. GFP and ONE HELIX PROTEIN1 transcript levels were downregulated by up to 90%, and GFP protein levels by 95%. These results establish artificial riboswitches as tools for externally controlled gene expression in synthetic biology in plants or functional crop design.
September, 04, 2019
Immunoproteasome inhibition selectively kills human CD14+ monocytes and as a result dampens IL-23 secretion
Michael Basler, Meike Claus, Moritz Klawitter, Heike Goebel and Marcus Groettrup
J Immunol
04 Sept 2019, published online
Scientists from Project C01 unravel the role of immunoproteasome inhibition in IL-23-driven autoimmunity.
Abstract
MECL-1 (β2i), LMP2 (β1i), and LMP7 (β5i) are the proteolytically active subunits of the immunoproteasome (IP), a special type of proteasome mainly expressed in hematopoietic cells. Targeting the IP in autoimmune diseases proved to be therapeutically effective in preclinical mouse models. In endotoxin-stimulated human PBMCs, IP inhibition reduces the secretion of several proinflammatory cytokines, with the suppression of IL-23 being the most prominent. In this study, we investigated why the production of IL-23, a key mediator of inflammation in autoimmunity, is blocked when the IP is inhibited in LPS-stimulated human PBMCs. CD14+ monocytes could be identified as the main producers of IL-23 in LPS-stimulated PBMCs. We found that IP inhibition with the irreversible LMP7/LMP2 inhibitor ONX 0914 induced apoptosis in CD14+ monocytes, whereas CD4+, CD3+, CD19+, and CD56+ cells remained unaffected. A high expression of IPs renders monocytes susceptible to IP inhibition, leading to an accumulation of polyubiquitylated proteins and the induction of the unfolded protein response. Similar to IP inhibition, inducers of the unfolded protein response selectively kill CD14+ monocytes in human PBMCs. The blockage of the translation in CD14+ monocytes protects these cells from ONX 0914–induced cell death, indicating that the IP is required to maintain protein turnover in monocytes. Taken together, our data reveal why IP inhibition is particularly effective in the suppression of IL-23–driven autoimmunity.
July, 31, 2019
Early scanning of nascent polypeptides inside the ribosomal tunnel by NAC
Martin Gamerdinger, Kan Kobayashi, Annalena Wallisch, Stefan G. Kreft, Carolin Sailer, Renate Schlömer, Nadine Sachs, Ahmad Jomaa, Florian Stengel, Nenad Ban and Elke Deuerling
Mol Cell
31 July 2019, published online
Scientists from Project A07 and Project A06 together with colleagues from the ETH Zurich discovered that the N-terminal tail of the β subunit of the nascent polypeptide-associated complex can act as a sensor of substrates directly upon synthesis by the ribosome.
Abstract
Cotranslational processing of newly synthesized proteins is fundamental for correct protein maturation. Protein biogenesis factors are thought to bind nascent polypeptides not before they exit the ribosomal tunnel. Here, we identify a nascent chain recognition mechanism deep inside the ribosomal tunnel by an essential eukaryotic cytosolic chaperone. The nascent polypeptide-associated complex (NAC) inserts the N-terminal tail of its β subunit (N-βNAC) into the ribosomal tunnel to sense substrates directly upon synthesis close to the peptidyl-transferase center. N-βNAC escorts the growing polypeptide to the cytosol and relocates to an alternate binding site on the ribosomal surface. Using C. elegans as an in vivo model, we demonstrate that the tunnel-probing activity of NAC is essential for organismal viability and critical to regulate endoplasmic reticulum (ER) protein transport by controlling ribosome-Sec61 translocon interactions. Thus, eukaryotic protein maturation relies on the early sampling of nascent chains inside the ribosomal tunnel.
June, 10, 2019
Reductive modification of genetically encoded 3-nitrotyrosine sites in alpha synuclein expressed in E. coli
Hanne R. Gerding, Christiaan Karreman, Andreas Daiber, Johannes Delp, Daniel Hammler, Martin Mex, Stefan Schildknecht and Marcel Leist
Redox Biol
10 June 2019, published online
Scientists from Project C05 report on the capability of E. coli cells to rapidly perform a reductive modification on seberal ectopically expressed proteins, amongst them nitrated alpha-synuclein.
Abstract
Tyrosine nitration is a post-translational protein modification relevant to various pathophysiological processes. Chemical nitration procedures have been used to generate and study nitrated proteins, but these methods regularly lead to modifications at other amino acid residues. A novel strategy employs a genetic code modification that allows incorporation of 3-nitrotyrosine (3-NT) during ribosomal protein synthesis to generate a recombinant protein with defined 3-NT-sites, in the absence of other post-translational modifications. This approach was applied to study the generation and stability of the 3-NT moiety in recombinant proteins produced in E.coli. Nitrated alpha-synuclein (ASYN) was selected as exemplary protein, relevant in Parkinson's disease (PD). A procedure was established to obtain pure tyrosine-modified ASYN in mg amounts. However, a rapid (t1/2 = 0.4 h) reduction of 3-NT to 3-aminotyrosine (3-AT) was observed. When screening for potential mechanisms, we found that 3-NT can be reduced enzymatically to 3-AT, whilst biologically relevant low molecular weight reductants, such as NADPH or GSH, did not affect 3-NT. A genetic screen for E.coli proteins, involved in the observed 3-NT reduction, revealed the contribution of several, possibly redundant pathways. Green fluorescent protein was studied as an alternative model protein. These data confirm 3-NT reduction as a broadly-relevant pathway in E. coli. In conclusion, incorporation of 3-NT as a genetically-encoded non-natural amino acid allows for generation of recombinant proteins with specific nitration sites. The potential reduction of the 3-NT moiety by E.coli, however, requires attention to the design of the purification strategy for obtaining pure nitrated protein.
May, 31, 2019
Immobilization approaches can affect proteindynamics: a surface-enhanced infrared spectroscopic study on lipid–protein interactions
Mohammad A Fallah and Karin Hauser
Biomat Sci
31 May 2019, published online
Researchers from Project A02 demonstrate that lipid induced conformational changes of α-synuclein are hindered when the protein is immobilized. This has to be considered when applying surface immobilization procedures which are commonly used in many analytical applications.

Abstract
The intrinsically disordered Parkinson disease protein α-synuclein (αS) performs conformational changes induced by intermolecular protein–protein as well as by protein-membrane interactions. Aggregation of αS is a hallmark for the disease, however the role of the membrane in the aggregation process still needs to be clarified. We used a surface-enhanced infrared absorption (SEIRA) spectroscopic approach to investigate the effect of lipid interactions on αS conformation. The near-field detection of SEIRA allows to study exclusively structural changes of immobilized αS with the advantage that the supernatant remains undetected and thus does not interfere with the spectral read-out. Self-assembled monolayer (SAMs) of mixed NHS-PEG-SH linker and MT(PEG)4 spacer molecules were utilized to immobilize αS. The linker/spacer composition of the SAM was adjusted to prevent αS–αS interactions. Two different methods were applied for site-specific (C-terminal and N-terminal) αS immobilization. The immobilized protein was then exposed to lipid vesicles and SEIRA difference spectra were recorded to monitor the αS conformation over time. Irrespective of the used immobilization method, αS tethering hindered lipid-induced conformational changes. The spectra also indicate that a fraction of the immobilized αS eventually desorbs from the surface into the supernatant solution. Desorbed αS performs conformational changes and formation of β-structured aggregates is observed upon interaction with either lipid vesicles or supplementary αS. Our study demonstrates that αS aggregates only when the protein is free in solution and that surface immobilization procedures, commonly used in many analytical applications, can change the dynamic behavior of proteins thereby affecting protein structure and function.
May, 22, 2019
Mechanism of completion of peptidyltransferase centre assembly in eukaryotes
Vasileios Kargas, Pablo Castro-Hartmann, Norberto Escudero-Urquijo, Kyle Dent, Christine Hilcenko, Carolin Sailer, Gertrude Zisser, Maria J Marques-Carvalho, Simone Pellegrino, Leszek Wawiórka, Stefan MV Freund, Jane L Wagstaff, Antonina Andreeva, Alexandre Faille, Edwin Chen, Florian Stengel, Helmut Bergler and Alan John Warren
eLife
22 May 2019, published online
In a collaborative effort by researchers from across the European Union including the Cambridge Institute for Medical Research and the University of Cambridge, researchers from Project A06, the University of Graz, the Maria Curie-Skłodowska University, MRC Laboratory of Molecular Biology and the University of Leeds the process of completion of the peptidyltransferase center was unraveled.

Abstract
During their final maturation in the cytoplasm, pre-60S ribosomal particles are converted to translation-competent large ribosomal subunits. Here, we present the mechanism of peptidyltransferase centre (PTC) completion that explains how integration of the last ribosomal proteins is coupled to release of the nuclear export adaptor Nmd3. Single-particle cryo-EM reveals that eL40 recruitment stabilises helix 89 to form the uL16 binding site. The loading of uL16 unhooks helix 38 from Nmd3 to adopt its mature conformation. In turn, partial retraction of the L1 stalk is coupled to a conformational switch in Nmd3 that allows the uL16 P-site loop to fully accommodate into the PTC where it competes with Nmd3 for an overlapping binding site (base A2971). Our data reveal how the central functional site of the ribosome is sculpted and suggest how the formation of translation-competent 60S subunits is disrupted in leukaemia-associated ribosomopathies.
May, 21, 2019
Interactions of p53 with poly(ADP-ribose) and DNA induce distinct changes in protein structure as revealed by ATR-FTIR spectroscopy
Annika Krüger, Anna Stier, Arthur Fischbach, Alexander Bürkle, Karin Hauser and Aswin Mangerich
Nucleic Acids Res
21 May 2019, published online
The technique of ATF-FTIR was used by scientists from Project A02 and former Project B04 to analyze the changes in the secondary structure of the protein p53 by non-covalent interaction with DNA and poly(ADP-ribose).
Abstract
Due to multiple domains and in part intrinsically disordered regions, structural analyses of p53 remain a challenging task, particularly in complex with DNA and other macromolecules. Here, we applied a novel attenuated total reflection Fourier transform infrared (ATR-FTIR) spectroscopic approach to investigate changes in secondary structure of full-length p53 induced by non-covalent interactions with DNA and poly(ADP-ribose) (PAR). To validate our approach, we confirmed a positive regulatory function of p53's C-terminal domain (CTD) with regard to sequence-specific DNA binding and verified that the CTD mediates p53–PAR interaction. Further, we demonstrate that DNA and PAR interactions result in distinct structural changes of p53, indicating specific binding mechanisms via different domains. A time-dependent analysis of the interplay of DNA and PAR binding to p53 revealed that PAR represents p53's preferred binding partner, which efficiently controls p53–DNA interaction. Moreover, we provide infrared spectroscopic data on PAR pointing to the absence of regular secondary structural elements. Finally, temperature-induced melting experiments via CD spectroscopy show that DNA binding stabilizes the structure of p53, while PAR binding can shift the irreversible formation of insoluble p53 aggregates to higher temperatures. In conclusion, this study provides detailed insights into the dynamic interplay of p53 binding to DNA and PAR at a formerly inaccessible molecular level.
May, 15, 2019
Protein spin labeling with a photocaged nitroxide using Diels‐Alder chemistry
Anandi Kugele, Bjarne Silkenath, Jakob Langer, Valentin Wittmann and Malte Drescher
ChemBioChem
15 May 2019, published online
Researchers from Project C03 have established a new strategy to spin-label proteins site-directedly by applying inverse-electron-demand Diels-Alder cycloaddition. See also here.
Abstract
EPR spectroscopy of diamagnetic bio‐macromolecules is based on site‐directed spin labeling (SDSL). Here, we present a novel labeling strategy for proteins. We developed and synthesized a nitroxide‐based spin label that can be ligated to proteins by an inverse‐electron‐demand Diels‐Alder (DAinv) cycloaddition to genetically encoded non‐canonical amino acids (ncAA). The nitroxide moiety is shielded by a photoremovable protecting group (PPG) with an attached tetraethylene glycol unit to achieve water solubility. We demonstrate SDSL of two model proteins with the PaNDA (Photoactivatable Nitroxide for DAinv reaction) label. Our strategy features high reaction rates combined with high selectivity, and the possibility to deprotect the nitroxide in E. coli lysate.
April, 19, 2019
Simulating and analysing configurational landscapes of protein–protein contact formation
Andrej Berg and Christine Peter
Interface Focus
19 April 2019, published online
In Project B09 molecular simulation is used to understand the formation and to characterize the configurational ensemble of protein aggregates. Here the researchers report on their characterization of ubiquitin dimers.
Abstract
Interacting proteins can form aggregates and protein–protein interfaces with multiple patterns and different stabilities. Using molecular simulation one would like to understand the formation of these aggregates and which of the observed states are relevant for protein function and recognition. To characterize the complex configurational ensemble of protein aggregates, one needs a quantitative measure for the similarity of structures. We present well-suited descriptors that capture the essential features of non-covalent protein contact formation and domain motion. This set of collective variables is used with a nonlinear multi-dimensional scaling-based dimensionality reduction technique to obtain a low-dimensional representation of the configurational landscape of two ubiquitin proteins from coarse-grained simulations. We show that this two-dimensional representation is a powerful basis to identify meaningful states in the ensemble of aggregated structures and to calculate distributions and free energy landscapes for different sets of simulations. By using a measure to quantitatively compare free energy landscapes we can show how the introduction of a covalent bond between two ubiquitin proteins at different positions alters the configurational states of these dimers.
April, 18, 2019
Double nitroxide labeling by copper-catalyzed azide–alkyne cycloadditions with noncanonical amino acids for Electron Paramagnetic Resonance Spectroscopy
Pia Widder, Frederic Berner, Daniel Summerer and Malte Drescher
ACS Chem Biol
18 April 2019, published online
Scientists from Project C03 have identified different noncanonical amino acids as suitable tools for site-directed spin labeling of proteins to be analyzed by electron paramagnetic resonance spectroscopy.
Abstract
Electron paramagnetic resonance spectroscopy in combination with site-directed spin labeling (SDSL) is an important tool to obtain long-range distance restraints for protein structural research. We here study a variety of azide- and alkyne-bearing noncanonical amino acids (ncAA) in terms of protein single- and double-incorporation efficiency via nonsense suppression, metabolic stability, yields of nitroxide labeling via copper-catalyzed [3 + 2] azide–alkyne cycloadditions (CuAAC), and spectroscopic properties in continuous-wave and double electron–electron resonance measurements. We identify para-ethynyl-l-phenylalanine and para-propargyloxy-l-phenylalanine as suitable ncAA for CuAAC-based SDSL that will complement current SDSL approaches, particularly in cases in which essential cysteines of a target protein prevent the use of sulfhydryl-reactive spin labels.
April, 11, 2019
Dual role of ribosome-binding domain of NAC as a potent suppressor of protein aggregation and aging-related proteinopathies
Koning Shen, Martin Gamerdinger, Rebecca Chan, KarinaGense, Esther M. Martin, Nadine Sachs, Patrick D. Knight, Renate Schlömer, Antonio N. Calabrese, Katie L. Stewart, Lukas Leiendecker, Ankit Baghel, Sheena E. Radford, Judith Frydman and Elke Deuerling
Mol Cell
11 April 2019, published online
Scientists from Project A07 in collaboration with researchers from the University of Leeds and Stanford University report on their finding that the positively charged N-terminus of the βsubunit of the nascent polypeptide-associated complex represents a major chaperone entity of NAC.
Abstract
The nascent polypeptide-associated complex (NAC) is a conserved ribosome-associated protein biogenesis factor. Whether NAC exerts chaperone activity and whether this function is restricted to de novo protein synthesis is unknown. Here, we demonstrate that NAC directly exerts chaperone activity toward structurally diverse model substrates including polyglutamine (PolyQ) proteins, firefly luciferase, and Aβ40. Strikingly, we identified the positively charged ribosome-binding domain in the N terminus of the βNAC subunit (N-βNAC) as a major chaperone entity of NAC. N-βNAC by itself suppressed aggregation of PolyQ-expanded proteins in vitro, and the positive charge of this domain was critical for this activity. Moreover, we found that NAC also exerts a ribosome-independent chaperone function in vivo. Consistently, we found that a substantial fraction of NAC is non-ribosomal bound in higher eukaryotes. In sum, NAC is a potent suppressor of aggregation and proteotoxicity of mutant PolyQ-expanded proteins associated with human diseases like Huntington's disease and spinocerebellar ataxias.
April, 5, 2019
Direct imaging of protein‐specific methylation in mammalian cells
Franziska Doll, Raphael R Steimbach and Andreas Zumbusch
ChemBioChem
5 April 2019, published online
Using advanced flourescence imaging techniques, researchers from Project B08 report on their results on imaging of methylation in living cells.
Abstract
Abundant post‐translational modification through methylation alters the function, stability, and/or localization of a protein. Malfunctions in post‐translational modification are associated with severe diseases. To unravel protein methylation sites and their biological functions, chemical methylation reporters have been developed. However, until now, their usage was limited to cell lysates. Herein, we present the first generally applicable approach for imaging methylation of individual proteins in human cells, which is based on a combination of chemical reporter strategies, bioorthogonal ligation reactions, and FRET detected by means of fluorescence lifetime imaging microscopy. Through this approach, methylation of histone 4 and the non‐histone proteins tumor suppressor p53, kinase Akt1, and transcription factor Foxo1 in two human cell lines has been successfully imaged. To further demonstrate its potential, the localization‐dependent methylation state of Foxo1 in the cellular context has been visualized.
March, 4, 2019
Cyclopropene derivatives of aminosugars for metabolic glycoengineering
Jessica Hassenrück and Valentin Wittmann
Beilstein J Org Chem
4 March 2019, published online
Project B05 studies metabolic glycoengineering. Now researchers report on their analysis of different derivatives of cyclopropene-modified hexosamine.
Abstract
Cyclopropenes have been proven valuable chemical reporter groups for metabolic glycoengineering (MGE). They readily react with tetrazines in an inverse electron-demand Diels–Alder (DAinv) reaction, a prime example of a bioorthogonal ligation reaction, allowing their visualization in biological systems. Here, we present a comparative study of six cyclopropene-modified hexosamine derivatives and their suitability for MGE. Three mannosamine derivatives in which the cyclopropene moiety is attached to the sugar by either an amide or a carbamate linkage and that differ by the presence or absence of a stabilizing methyl group at the double bond have been examined. We determined their DAinv reaction kinetics and their labeling intensities after metabolic incorporation. To determine the efficiencies by which the derivatives are metabolized to sialic acids, we synthesized and investigated the corresponding cyclopropane derivatives because cyclopropenes are not stable under the analysis conditions. From these experiments, it became obvious that N-(cycloprop-2-en-1-ylcarbonyl)-modified (Cp-modified) mannosamine has the highest metabolic acceptance. However, carbamate-linked N-(2-methylcycloprop-2-en-1-ylmethyloxycarbonyl)-modified (Cyoc-modified) mannosamine despite its lower metabolic acceptance results in the same cell-surface labeling intensity due to its superior reactivity in the DAinv reaction. Based on the high incorporation efficiency of the Cp derivative we synthesized and investigated two new Cp-modified glucosamine and galactosamine derivatives. Both compounds lead to comparable, distinct cell-surface staining after MGE. We further found that the amide-linked Cp-modified glucosamine derivative but not the Cyoc-modified glucosamine is metabolically converted to the corresponding sialic acid.
February, 8, 2019
Analysis of modification and proteolytic targeting by the ubiquitin-like modifier FAT10
Annette Aichem, Annika N Böhm, Nicola Catone, Gunter Schmidtke and Marcus Groettrup
Methods
8 February 2019, published online
In their in-depth article researchers from Project C01 give detailed methodological information about the handling of the ubiquiti-like modifier FAT10.
Abstract
The ubiquitin-like modifier FAT10 (also called ubiquitin D (UBD)) interacts noncovalently with a substantial number of proteins and also gets covalently conjugated to many substrate proteins, leading to their degradation by the 26S proteasome. FAT10 comprises two loosely folded ubiquitin-like domains that are connected by a flexible linker, and this unusual structure makes it highly prone to aggregation. Here, we report methods to purify high amounts of soluble recombinant FAT10 for various uses, such as in vitro FAT10ylation assays. In addition, we describe how to generate and handle overexpressed as well as endogenous FAT10 in cellulo for use in immunoprecipitations, Western blot analyses, and FAT10 degradation studies.
February, 4, 2019
The ubiquitin-like modifier FAT10 stimulates the activity of the deubiquitylating enzyme OTUB1
Johanna Bialas, Annika N Böhm, Nicola Catone, Annette Aichem and Marcus Groettrup
J Biol Chem
4 February 2019, published online
Scientists for Project C01 demonstrate that the ubiquitin-like modifier FAT10 controls the stbility and the functionality of the deubiquitylase OTUB1 and thus also influences ubiquitylation processes.
Abstract
The deubiquitylation of target proteins is mediated by DUBs such as OTUB1 which plays an important role in the immune response, cell cycle progression and DNA repair. Within these processes OTUB1 reduces the ubiquitylation of target proteins in two distinct ways, either by using its catalytic DUB activity or in a non–catalytic manner by inhibiting the E2 conjugating enzyme. Here, we show that the ubiquitin-like modifier FAT10 is regulating the OTUB1 stability and functionality in different manners. Covalent FAT10ylation of OTUB1 results in its proteasomal degradation whereas a non-covalent interaction stabilizes OTUB1. We provide evidence that OTUB1 directly interacts with FAT10 and the E2 conjugating enzyme USE1. This interaction strongly stimulates the OTUB1 DUB activity towards K48-linked diubiquitin. Furthermore, the non-covalent interaction between FAT10 and OTUB1 not only enhances its isopeptidase activity towards K48-linked ubiquitin moieties but also strengthens its non-catalytic activity in reducing K63 polyubiquitylation of its target protein TRAF3. Additionally, the cellular clearance of overall polyubiquitylation by OTUB1 was strongly stimulated through the presence of FAT10. Addition of FAT10 also led to an increased interaction between OTUB1 and its cognate E2 UbcH5B implying a function of FAT10 in the inhibition of polyubiquitylation. Overall, these data indicate that FAT10 does not only play a role in covalent modification and leading its substrates to proteasomal degradation, but that it also regulates stability and functionality of target proteins by interacting in a non-covalent manner. Thereby FAT10 is able to exert a major influence on ubiquitylation processes.
January, 30, 2019
A tetracycline-dependent ribozyme switch allows conditional induction of gene expression in Caenorhabditis elegans
Lena A Wurmthaler, Monika Sack, Karina Gense, Jörg S Hartig and Martin Gamerdinger
Nat Commun
30 January 2019, published online
In a collaborative effort researchers from CRC 969 Project A05 and Project A07 developed tetracycline-dependent RNA-based genetic switches for use in the eukaryotic model organism Caenorhabditis elegans. These switches allow tissue-specific gene expression and the temporal control of gene expression during all developmental stages of the nematode.
Abstract
The nematode Caenorhabditis elegans represents an important research model. Convenient methods for conditional induction of gene expression in this organism are not available. Here we describe tetracycline-dependent ribozymes as versatile RNA-based genetic switches in C. elegans. Ribozyme insertion into the 3'-UTR converts any gene of interest into a tetracycline-inducible gene allowing temporal and, by using tissue-selective promoters, spatial control of expression in all developmental stages of the worm. Using the ribozyme switches we established inducible C. elegans polyglutamine Huntington's disease models exhibiting ligand-controlled polyQ-huntingtin expression, inclusion body formation, and toxicity. Our approach circumvents the complicated expression of regulatory proteins. Moreover, only little coding space is necessary and natural promoters can be utilized. With these advantages tetracycline-dependent ribozymes significantly expand the genetic toolbox for C. elegans.
January, 23, 2019
Immunoproteasome inhibition induces plasma cell apoptosis and preserves kidney allografts by activating the unfolded protein response and suppressing plasma cell survival factors.
Jun Li, Julia Körner, Michael Basler, Thomas Brunner, Christopher J Kirk and Marcus Groettrup
Kidney Int
23 January 2019, published online
Researchers from Project C01 together with collaborators from the University of Konstanz, the Biotechnology Institute Thurgau and Kezar Life Sciences report about a new strategy to reduce alloantibody production and allograft rejection by inhibition of the immunoproteasome.
Abstract
Chronic antibody-mediated rejection is the leading cause of allograft dysfunction and loss after kidney transplantation, and current immunosuppressive regimens fail to target the plasma cells that produce alloantibodies. We previously showed that treatment with the immunoproteasome inhibitor ONX 0914 prevented the expansion of plasma cells and prevented chronic allograft nephropathy and organ failure after kidney transplantation in rats, but the mechanism has remained elusive. In the current study, we confirmed a long-term reduction in alloantibody production and improvements in allograft histology in rats treated with ONX 0914 or with the broad-spectrum proteasome inhibitor bortezomib. Plasma cells from allotransplanted rats expressed immunoproteasomes at high levels. Immunoproteasome inhibition with ONX 0914 led to ubiquitin-conjugate accumulation, activation of the unfolded protein response, and induction of apoptosis in plasma cells. In addition, ONX 0914 suppressed the expression of adhesion molecules (VLA-4 and LFA-1), plasma cell survival factors (APRIL and IL-6), and IFN-γ-inducible chemokines in bone marrow, while the APRIL receptor BCMA, the IL-6 receptor, and the chemokine receptors CXCR4 and CXCR3 were down-regulated on plasma cells. Taken together, immunoproteasome inhibition blocked alloantibody production by inducing apoptosis of plasma cells through activating the unfolded protein response and suppressing plasma cell survival factors in the bone marrow.
January, 16, 2019
Expanding the genetic code for site-directed spin-labeling.
Theresa Braun, Malte Drescher and Daniel Summerer
Int J Mol Sci
16 January 2019, published online
Geneticall encoded noncanonical amino acids as  a site directed spin label in combination with electron paramagnetic resonance could be used to measure protein structure in living cells. Scientists from Project C03 give an overview about this field of research.
Abstract
Site-directed spin labeling (SDSL) in combination with electron paramagnetic resonance (EPR) spectroscopy enables studies of the structure, dynamics, and interactions of proteins in the noncrystalline state. The scope and analytical value of SDSL–EPR experiments crucially depends on the employed labeling strategy, with key aspects being labeling chemoselectivity and biocompatibility, as well as stability and spectroscopic properties of the resulting label. The use of genetically encoded noncanonical amino acids (ncAA) is an emerging strategy for SDSL that holds great promise for providing excellent chemoselectivity and potential for experiments in complex biological environments such as living cells. We here give a focused overview of recent advancements in this field and discuss their potentials and challenges for advancing SDSL–EPR studies.
January, 12, 2019
Expanding the toolbox of synthetic riboswitches with guanine-dependent aptazymes
Julia Stifel, Maike Spöring and Jörg Hartig
Synth Biol
12 January 2019, published online
Researchers from Project A05 developed new aptazymes that depend on guanine which are operative in both, bacteria and human cells.
Abstract
Artificial riboswitches based on ribozymes serve as versatile tools for ligand-dependent gene expression regulation. Advantages of these so-called aptazymes are their modular architecture and the comparably little coding space they require. A variety of aptamer-ribozyme combinations were constructed in the past 20 years and the resulting aptazymes were applied in diverse contexts in prokaryotic and eukaryotic systems. Most in vivo functional aptazymes are OFF-switches, while ON-switches are more advantageous regarding potential applications in e.g. gene therapy vectors. We developed new ON-switching aptazymes in the model organism Escherichia coli and in mammalian cell culture using the intensely studied guanine-sensing xpt aptamer. Utilizing a high-throughput screening based on fluorescence-activated cell sorting in bacteria we identified up to 9.2-fold ON-switches and OFF-switches with a dynamic range up to 32.7-fold. For constructing ON-switches in HeLa cells, we used a rational design approach based on existing tetracycline-sensitive ON-switches. We discovered that communication modules responding to tetracycline are also functional in the context of guanine aptazymes, demonstrating a high degree of modularity. Here, guanine-responsive ON-switches with a four-fold dynamic range were designed. Summarizing, we introduce a series of novel guanine-dependent ribozyme switches operative in bacteria and human cell culture that significantly broaden the existing toolbox.
January, 9, 2019
Preparation of clathrin-coated vesicles from Arabidopsis thaliana seedlings
Niccolò Mosesso, Tobias Bläske, Marie-Kristin Nagel, Michael Laumann and Erika Isono
Front Plant Sci
9 January 2019, published online
Scientists from Project C08 describe a new method to isolate clathrin-coated vesicles from plant seedlings.
Abstract
Clathrin coated vesicles (CCVs) mediate endocytosis of plasma membrane proteins and deliver their content to the endosomes for either subsequent recycling to the plasma membrane or transport to the vacuole for degradation. CCVs assemble also at the trans-Golgi network (TGN) and is responsible for the transport of proteins to other membranes. Oligomerization of clathrin and recruitment of adaptor protein complexes promote the budding and the release of CCVs. However, many of the details during plant CCV formation are not completely elucidated. The analysis of isolated CCVs is therefore important to better understand the formation of plant CCVs, their cargos and the regulation of clathrin-mediated transport processes. In this article, we describe an optimized method to isolate CCVs from Arabidopsis thaliana seedlings.
November, 30, 2018
Triple orthogonal labeling of glycans by applying photoclick chemistry
Verena Schart, Jessica Hassenrück, Anne-Katrin Späte, Jeremias EGA Dold, Raphael Fahrner and Valentin Wittmann
ChemBioChem
30 November 2018, published online
Using different approaches to label carbohydrates by reporter groups researchers of Project B05 for the first time triply labeled glycans.
Abstract
Bioorthogonal labeling of multiple biomolecules is of current interest in chemical biology. Metabolic glycoengineering (MGE) has been shown to be an appropriate approach to visualizing carbohydrates. Here, we report that the nitrile imine–alkene cycloaddition (photoclick reaction) is a suitable ligation reaction in MGE. Using a mannosamine derivative with an acrylamide reporter group that is efficiently metabolized by cells and that quickly reacts in the photoclick reaction, we labeled sialic acids on the surface of living cells. Screening of several alkenes showed that a previously reported carbamate‐linked methylcyclopropene reporter that is well suited for the inverse‐electron‐demand Diels–Alder (DAinv) reaction has a surprisingly low reactivity in the photoclick reaction. Thus, for the first time, we were able to triply label glycans by a combination of DAinv, photoclick, and copper‐free click chemistry.
October, 29, 2018
Calcineurin promotes APC/C activation at meiotic exit by acting on both XErp1 and Cdc20
Andreas Heim, Thomas Tischer and Thomas U Mayer
EMBO Rep
29 October 2018, published online
Researchers from CRC 969 Project B01 in collaboration with scientists from MRC Cambridge show that the phosphatase Calcineurin participates in the control of meiotic exit upon fertilization by two independent mechanisms.
Abstract
Vertebrate oocytes await fertilization arrested at metaphase of the second meiotic division. Fertilization triggers a transient calcium wave, which induces the activation of the anaphase‐promoting complex/cyclosome (APC/C) and its co‐activator Cdc20 resulting in the destruction of cyclin B and hence meiotic exit. Two calcium‐dependent enzymes are implicated in fertilization‐induced APC/CCdc20 activation: calcium‐/calmodulin‐dependent kinase type II (CaMKII) and calcineurin (CaN). While the role of CaMKII in targeting the APC/C inhibitor XErp1/Emi2 for destruction is well‐established, it remained elusive how CaN affects APC/CCdc20 activation. Here, we discover that CaN contributes to APC/CCdc20 activation in Xenopus laevis oocytes by two independent but interrelated mechanisms. First, it facilitates the degradation of XErp1 by dephosphorylating it at a site that is part of a phosphorylation‐dependent recruiting motif for PP2A‐B′56, which antagonizes inhibitory phosphorylation of XErp1. Second, it dephosphorylates Cdc20 at an inhibitory site, thereby supporting its APC/C‐activating function. Thus, our comprehensive analysis reveals that CaN contributes to timely APC/C activation at fertilization by both negatively regulating the APC/C inhibitory activity of XErp1 and positively regulating the APC/C‐activating function of Cdc20.
October, 29, 2018
Isotopically site-selected dynamics of a three-stranded β-sheet peptide detected with Temperature-Jump IR-spectroscopy
David Scheerer, Heng Chi, Dan McElheny, Timothy A Keiderling and Karin Hauser
J Phys Chem B
29 October 2018, published online
Scientists from CRC 969 Project A02 together with researchers from the University of Chicago show that folding of a model three-stranded β-sheet peptide proceeds in a multi-step manner.
Abstract
Infrared detected temperature jump (T-jump) spectroscopy and site-specific isotopic labeling were applied to study a model three-stranded β-sheet peptide with the goal of individually probing the dynamics of strand and turn structural elements. This peptide had two DPro-Gly (pG) turn sequences to stabilize the two component hairpins, which were labeled with 13C=O on each of the Gly residues to resolve them spectroscopically. Labeling the second turn on the amide preceding the DPro (Xxx-DPro amide) provided an alternate turn label as a control. Placing 13C=O labels on specific in-strand residues gave shifted modes that overlap the Xxx-DPro amide I' modes. Their impact could be separated from the turn dynamics by a novel difference-transient analysis approach. FTIR spectra were modeled with DFT-computations which showed the local, isotope-selected vibrations were effectively uncoupled from the other amide I modes. Our T-jump dynamics results, combined with NMR structures and equilibrium spectral measurements, showed the first turn to be most stable and best formed with the slowest dynamics, while the second turn and first strand (N-terminus) had similar dynamics, and the third strand (C-terminus) had the fastest dynamics and was the least structured. The relative dynamics of the strands, Xxx-DPro amides and 13C-labeled Gly residues on the turns also qualitatively corresponded to molecular dynamics (MD) simulations of turn and strand fluctuations. MD trajectories indicated the turns to be bistable, with the first turn being Type I' and the second turn flipping from I' to II'. The differences in relaxation times for each turn and the separate strands revealed that the folding process of this turn-stabilized β-sheet structure proceeds in a multi-step process.
September, 05, 2018
Structural dynamics of the E6AP/UBE3A-E6-p53 enzyme-substrate complex
Carolin Sailer, Fabian Offensperger, Alexandra Julier, Kai-Michael Kammer, Ryan Walker-Gray, Matthew G. Gold, Martin Scheffner and Florian Stengel
Scientists from CRC 969 Project A06 and Project B02 in collaboration with researchers from the University College London revealed structural and functional dynamics of the E6AP-E6-p53 enzyme-substrate complex .
Nat Commun
05 September 2018, accepted
Abstract
Deregulation of the ubiquitin ligase E6AP is causally linked to the development of human disease, including cervical cancer. In complex with the E6 oncoprotein of human papillomaviruses, E6AP targets the tumor suppressor p53 for degradation, thereby contributing to carcinogenesis. Moreover, E6 acts as a potent activator of E6AP by a yet unknown mechanism. However, structural information explaining how the E6AP-E6-p53 enzyme-substrate complex is assembled, and how E6 stimulates E6AP, is largely missing. Here, we develop and apply different crosslinking mass spectrometry-based approaches to study the E6AP-E6-p53 interplay. We show that binding of E6 induces conformational rearrangements in E6AP, thereby positioning E6 and p53 in the immediate vicinity of the catalytic center of E6AP. Our data provide structural and functional insights into the dynamics of the full-length E6AP-E6-p53 enzyme-substrate complex, demonstrating how E6 can stimulate the ubiquitin ligase activity of E6AP while facilitating ubiquitin transfer from E6AP onto p53.
August, 02, 2018
Fluorescence lifetime sensitive probes for monitoring ATP cleavage
Daniel Hammler, Andreas Marx and Andreas Zumbusch
Scientists from CRC969 Project B08 report on their development of fluorescent ATP analogues which are suited for fluorescence lifetime measurements.
Chem Eur J
02 August 2018, accepted full
Abstract
Adenosine triphosphate (ATP) probes modified with fluorescence dyes that change their fluorescence properties upon cleavage are an interesting tool for monitoring enzymatic ATP turnover. As a readout parameter, fluorescence lifetime is attractive since it is nearly independent of concentration. In our study we synthesised and investigated eleven different ATP analogues, in which the fluorophores were attached to the γ‐phosphate of ATP. All analogues showed distinctly different fluorescence lifetimes compared to the corresponding values of the free fluorophores. Both fluorescence lifetime increases and decreases upon attachment to ATP were observed. In order to shed light on the photophysical processes governing the lifetime changes we performed photoelectron spectroscopy in air (PESA) to determine HOMO energy levels and time‐resolved fluorescence spectroscopy to obtain rate constants. We present evidence that fluorescence quenching in the compounds tested is dynamic and due to photoinduced electron transfer (PET), whereas fluorescence lifetime increases are caused by stacking interactions between chromophore and the nucleobase reducing non‐radiative relaxation. Finally, we demonstrate that enzymatic cleavage of the ATP analogues presented can be followed by continuous monitoring of fluorescence lifetime changes.
July, 31, 2018
The structure of the ubiquitin-like modifier FAT10 reveals an alternative targeting mechanism for proteasomal degradation
Annette Aichem, Samira Anders, Nicola Catone, Philip Rößler, Sophie Stotz, Andrej Berg, Ricarda Schwab, Sophia Scheuermann, Johanna Bialas, Mira C. Schütz-Stoffregen, Gunter Schmidtke, Christine Peter, Marcus Groettrup and Silke Wiesner
Nat Commun
31 July 2018, accepted

Researchers from CRC 969, Project C01 and Project B09, together with collaborators from the Max-Planxk-Institute in Tübingen and the University of Regensburg, reveal the structure of two domains of the ubiquitin-like modifier FAT10 that is intrinsically instable and has a disordered N-terminus.
Abstract
FAT10 is a ubiquitin-like modifier that directly targets proteins for proteasomal degradation. Here, we report the high-resolution structures of the two individual ubiquitin-like domains (UBD) of FAT10 that are joined by a flexible linker. While the UBDs of FAT10 show the typical ubiquitin-fold, their surfaces are entirely different from each other and from ubiquitin explaining their unique binding specificities. Deletion of the linker abrogates FAT10- conjugation while its mutation blocks auto-FAT10ylation of the FAT10-conjugating enzyme USE1 but not bulk conjugate formation. FAT10- but not ubiquitin-mediated degradation is independent of the segregase VCP/p97 in the presence but not the absence of FAT10's unstructured N-terminal heptapeptide. Stabilization of the FAT10 UBDs strongly decelerates degradation suggesting that the intrinsic instability of FAT10 together with its disordered N-terminus enables the rapid, joint degradation of FAT10 and its substrates without the need for FAT10 de-conjugation and partial substrate unfolding.
April, 24, 2018
Insights into the aggregation mechanism of polyQ proteins with different glutamine repeat lengths
Tetyana Yushchenko, Elke Deuerling and Karin Hauser
Biophys J
28 April 2018, published online
CRC 969 researchers from Projects A01 and A02 analyzed the mechanism of aggregation of PolyQ proteins. Their results show that aggregation varies depending on the length of the PolyQ repeat.
Abstract
Polyglutamine (polyQ) diseases, including Huntington's disease, result from the aggregation of an abnormally expanded polyQ repeat in the affected protein. The length of the polyQ repeat is essential for the disease's onset; however, the molecular mechanism of polyQ aggregation is still poorly understood. Controlled conditions and initiation of the aggregation process are prerequisites for the detection of transient intermediate states. We present an attenuated total reflection Fourier-transform infrared spectroscopic approach combined with protein immobilization to study polyQ aggregation dependent on the polyQ length. PolyQ proteins were engineered mimicking the mammalian N-terminus fragment of the Huntingtin protein and containing a polyQ sequence with the number of glutamines below (Q11), close to (Q38), and above (Q56) the disease threshold. A monolayer of the polyQ construct was chemically immobilized on the internal reflection element of the attenuated total reflection cell, and the aggregation was initiated via enzymatic cleavage. Structural changes of the polyQ sequence were monitored by time-resolved infrared difference spectroscopy. We observed faster aggregation kinetics for the longer sequences, and furthermore, we could distinguish β-structured intermediates for the different constructs, allowing us to propose aggregation mechanisms dependent on the repeat length. Q11 forms a β-structured aggregate by intermolecular interaction of stretched monomers, whereas Q38 and Q56 undergo conformational changes to various β-structured intermediates, including intramolecular β-sheets.
April, 12, 2018
Conformational flexibility within the nascent polypeptide-associated complex enables its interactions with structurally diverse client proteins
Esther M Martin, Matthew P Jackson, Martin Gamerdinger, Karina Gense, Theodoros K Karamanos, Julia R Humes, Elke Deuerling, Alison E Ashcroft, and Sheena E Radford (2018)
J Biol Chem
Scientists from CRC 969 Research Project A07 together with researchers from the University of Leeds demonstrate that in order to bind its substrates the ribosome-associated chaperone nascent polypeptide associated complex NAC adopts various compact and expanded conformations.
Abstract
As newly synthesized polypeptides emerge from the ribosome, it is crucial that they fold correctly. To prevent premature aggregation, nascent chains interact with chaperones that facilitate folding or prevent misfolding until protein synthesis is complete. Nascent polypeptide-associated complex (NAC) is a ribosome-associated chaperone important for protein homeostasis. However, how NAC binds its substrates remains unclear. Using native electrospray ionization MS (ESI MS), limited proteolysis, NMR and cross-linking, we analysed the conformational properties of NAC from Caenorhabditis elegans and studied its ability to bind proteins in different conformational states. Our results revealed that NAC adopts an array of compact and expanded conformations and binds weakly to client proteins that are unfolded, folded, or intrinsically disordered, suggestive of broad substrate compatibility. Of note, we found that this weak binding retards aggregation of the intrinsically disordered protein α-synuclein both in vitro and in vivo. These findings provide critical insights into the structure and function of NAC. Specifically, they reveal the ability of NAC to exploit its conformational plasticity to bind a repertoire of substrates having unrelated sequences and structures independently of actively translating ribosomes.
April, 04, 2018
Orientation of lipids in solid supported lipid bilayers studied by polarized ATR-FTIR spectroscopy
Christian Scheibe and Karin Hauser
Biomed Spectrosc Imaging
04 April 2018, published online
In order to analyze protein-membrane interactions researchers from CRC 969 Project A02 revealed that polarized ATR-FTIR spectroscopy of different lipid bilayers is a useful tool to characterize lipid membranes under various environmental conditions.
Abstract
Solid supported lipid bilayers (SSLB) play an important role as biomimetic membranes to study protein-membrane interactions. We investigated the orientation of lipids in SSLBs at different temperatures and over time. Especially the stability of the lipid bilayer and structural changes upon lipid phase transition were analyzed by polarized ATR-FTIR spectroscopy and with SSLBs of different lipid compositions. The integrity of a lipid bilayer consisting of POPC or a 1:1 mixture of POPC and POPG is conserved over a wide temperature range and over several hours. Furthermore, we were able to monitor changes in the orientation of the lipid alkyl chains upon lipid phase transition for DMPC and DSPC. This study shows that the combination of solid supported lipid bilayers and polarized ATR-FTIR spectroscopy is very powerful to characterize lipid membranes under different environmental conditions. The sensitivity of this technique will be exploited in future studies to analyze the effect of protein-membrane interaction on lipid orientation.
April, 04, 2018
A combined approach of surface passivation and specific immobilization to study biomolecules by ATR-FTIR spectroscopy
Annika Krüger, Alexander Bürkle, Aswin Mangerich and Karin Hauser
Biomed Spectrosc Imaging
04 April 2018, published online
Scientists from CRC969 Project A02 report on a strategy to modify solid surfaces in order to apply ATR-FTIR for studying a wide range of biochemical systems and reactions.
Abstract
Attenuated total reflection Fourier-transform infrared (ATR-FTIR) spectroscopy is a surface-sensitive and label-free technique, which is applied to obtain dynamic structural information of biomolecules. The study of proteins by ATR-FTIR spectroscopy can be impeded by their tendency to adsorb to solid surfaces. Furthermore, the adsorption process of proteins is often accompanied with conformational changes, which can interfere with the intended structural analysis. We efficiently modified a silicon ATR crystal surface with polyethylene glycol and thereby create a protein-repellent surface. To achieve a high sensitivity, which enables the study of small conformational changes of biomolecules, we combine surface passivation with specific immobilization. This is accomplished via the biotin-streptavidin interaction, which is one of the strongest known non-covalent protein-ligand interactions. As a proof of concept we present the specific immobilization of DNA. The modified surface is stable against elevated temperatures and 8 M urea and can therefore be used to study a wide range of biochemical systems and reactions. The surface chemistry is simple and performed under mild conditions, which leads to a high applicability of the presented approach.
March, 07, 2018
Org Biomol Chem
07 March 2018, accepted, full
Abstract
Bacteria engage in numerous collaborative and competitive interactions, which are often mediated by small molecule metabolites. Bacterial competition involves for example the production of compounds that effectively kill or inhibit growth of their neighbours but also the secretion of siderophores that allow securing the essential and fiercely embattled resource of ferric iron. Yet, the enormous diversity of metabolites produced has remained puzzling in many cases. We here present examples of both types of competition from our recent work. These include the human pathogen Pseudomonas aeruginosa producing HQNO derived 4-quinolone N-oxides varying in chain length and saturation as antibiotics against Staphylococcus aureus and two marine bacteria, Shewanella algae and Vibrio alginolyticus competing for iron acquisition via homodimeric and heterodimeric cyclic hydroxamate siderophores. In each case, bacteria not only produce one but a whole set of closely related metabolites encoded by a single biosynthetic gene cluster. Our recent work has demonstrated that individual metabolites can have significantly different biological activities and we speculate on the reasons for maintaining this metabolite diversity from the perspective of interspecies competition.
January, 05, 2018
Role of aromatic cross-links in structure and dynamics of model three-stranded β-sheet peptides
David Scheerer, Heng Chi, Dan McElheny, Ayesha Samer, Timothy A Keiderling and Karin Hauser
J Phys Chem A
05 January 2018, published online
Scientists from CRC 969 Project A02 together with researchers from the University of Chicago show that aromatic cross-links can affect the structure and the conformational dynamics of model peptides.
Abstract
A series of closely related peptide sequences that form triple-strand structures was designed with a variation of cross-strand aromatic interactions and spectroscopically studied as models for β-sheet formation and stabilities. Structures of the three-strand models were determined with NMR methods and temperature-dependent equilibrium studies performed using circular dichroism and Fourier transform infrared spectroscopies. Our equilibrium data show that the presence of a direct cross-strand aromatic contact in an otherwise folded peptide does not automatically result in an increased thermal stability and can even distort the structure. The effect on the conformational dynamics was studied with infrared-detected temperature-jump relaxation methods and revealed a high sensitivity to the presence and the location of the aromatic cross-links. Aromatic contacts in the three-stranded peptides slow down the dynamics in a site-specific manner, and the impact seems to be related to the distance from the turn. With a Xxx-DPro linkage as a probe with some sensitivity for the turn, small differences were revealed in the relative relaxation of the sheet strands and turn regions. In addition, we analyzed the component hairpins, which showed less uniform dynamics as compared to the parent three-stranded β-sheet peptides.
November, 06, 2017
Highly motif- and organism-dependent effects of naturally occurring hammerhead ribozyme sequences on gene expression
Lena A Wurmthaler, Benedikt Klauser and Jörg S Hartig
RNA Biology
06 November 2017, published online
Researchers from CRC 969 Project A05 revealed that the effects of naturally occurring hammerhead ribozyme on gene expression are highly variable depending on the organism analyzed.
Abstract
Recent bioinformatics studies have demonstrated a wide-spread occurrence of the hammerhead ribozyme (HHR) and similar small endonucleolytic RNA motifs in all domains of life. It is becoming increasingly evident that such ribozyme motifs participate in important genetic processes in diverse organisms. Although the HHR motif has been studied for more than three decades, only little is known about the consequences of ribozyme activity on gene expression. In the present study we analysed eight different naturally occurring HHR sequences in diverse genetic and organismal contexts. We investigated the influence of active ribozymes incorporated into mRNAs in mammalian, yeast and bacterial expression systems. The experiments show an unexpectedly high degree of organism-specific variability of ribozyme-mediated effects on gene expression. The presented findings demonstrate that ribozyme cleavage profoundly affect gene expression. However, the extent of this effect varies and depends strongly on the respective genetic context. The fast-cleaving type 3 HHRs [CChMVd(-) and sLTSV(-)] generally tended to cause the strongest effects on intracellular gene expression. The presented results are important in order to address potential functions of naturally occurring ribozymes in RNA processing and post-transcriptional regulation of gene expression. Additionally, our results are of interest for biotechnology and synthetic biology approaches that aim at the utilisation of self-cleaving ribozymes as widely applicable tools for controlling genetic processes.
October, 17, 2017
Identification of ubiquitin chain interacting proteins
Xiaohui Zhao, Joachim Lutz, Eva Höllmüller, Martin Scheffner, Andreas Marx and Florian Stengel
Angew Chem Int Ed
17 October 2017, accepted
Scientists from CRC969 Project B03 report on their development of an approach to generate all seven homogeneous ubiquitin chains in large quantities.
Abstract
Ubiquitylation, the modification of proteins by ubiquitin (Ub), is one of the most prevalent and versatile post-translational modifications in eukaryotic cells. As Ub also serves as its own substrate, proteins can be modified by numerous different Ub chains, in which the individual moieties are linked via one or several of the seven lysines of Ub. Homogeneous Ub chains, in which the moieties are sequentially linked via the same residue, have been most extensively studied. Yet, due to their restricted availability, the functions of Ub chains linked via K27, K29 or K33 are poorly understood. We have developed an approach that, for the first time, allows the generation of all seven homogeneous Ub chains in large quantities. We show that the chains enable the identification of Ub chain binding proteins by affinity-based proteomics. The potential of our approach is demonstrated by the identification of previously unknown interaction partners of K27-, K29-, and K33-linked Ub chains.
October, 05, 2017
Simultaneous IR-spectroscopic observation of α-synuclein, lipids, and solvent reveals an alternative membrane-induced oligomerization pathway
Mohammad A Fallah, Hanne R Gerding, Christian Scheibe, Malte Drescher, Christiaan Karreman, Stefan Schildknecht, Marcel Leist and Karin Hauser
Chembiochem
05 October 2017, accepted
Using label-free infrared spectroscopy CRC969 researchers from Project A02 and Project C05 discovered that the pathway of aggregation of the protein alpha-synuclein is influenced by the presence of lipid membranes.
Abstract
The intrinsically disordered protein α-synuclein (αS), a known pathogenic factor for Parkinson's disease, can adopt defined secondary structures when interacting with membranes or during fibrillation. The αS-lipid interaction and the implications of this process for aggregation and damage to membranes are still poorly understood. Therefore, we established a label-free infrared (IR) spectroscopic approach to simultaneously monitor αS conformation and membrane integrity. IR showed its unique sensitivity for identifying distinct α-structured aggregates. A comparative study of wildtype αS and the naturally occurring splicing variant αS Δexon3 yielded new insights into the membrane's capability of altering aggregation pathways.
September, 11, 2017
Mechanisms for restraining cAMP-dependent protein kinase revealed by subunit quantitation and novel crosslinking approaches
Ryan Walker-Gray, Florian Stengel and Matthew G Gold
Proc Natl Acad Sci USA
11 September 2017, published online
Head of research of CRC969 Project A06 together with colleagues from University College London, UK, analyzed the mechanism by which the activity of protein kinase A is restrained to prevent uncontrolled protein phosphorylation.
Abstract
Protein phosphorylation by cyclic AMP-dependent protein kinase (PKA) underlies key cellular processes, including sympathetic stimulation of heart cells, and potentiation of synaptic strength in neurons. Unrestrained PKA activity is pathological, and an enduring challenge is to understand how the activity of PKA catalytic subunits is directed in cells. We developed a light-activated cross-linking approach to monitor PKA subunit interactions with temporal precision in living cells. This enabled us to refute the recently proposed theory that PKA catalytic subunits remain tethered to regulatory subunits during cAMP elevation. Instead, we have identified other features of PKA signaling for reducing catalytic subunit diffusion and increasing recapture rate. Comprehensive quantitative immunoblotting of protein extracts from human embryonic kidney cells and rat organs reveals that regulatory subunits are always in large molar excess of catalytic subunits (average ∼17-fold). In the majority of organs tested, type II regulatory (RII) subunits were found to be the predominant PKA subunit. We also examined the architecture of PKA complexes containing RII subunits using cross-linking coupled to mass spectrometry. Quantitative comparison of cross-linking within a complex of RIIβ and Cβ, with or without the prototypical anchoring protein AKAP18α, revealed that the dimerization and docking domain of RIIβ is between its second cAMP binding domains. This architecture is compatible with anchored RII subunits directing the myristylated N terminus of catalytic subunits toward the membrane for release and recapture within the plane of the membrane.
July, 04, 2017
Room-temperature in-cell EPR spectroscopy: alpha-Synuclein disease variants remain intrinsically disordered in the cell
Julia Cattani, Vinod Subramaniam and Malte Drescher
Phys Chem Chem Phys
04 July 2017, published online
The conformation of the intrinsically disordered human alpha-Synuclein protein was analyzed in Xenopus laevis oocytes by researchers of CRC969 Project C03 in collaboration with a scientist from the University of Amsterdam by EPR spectroscopy.
Abstract
Human alpha-Synuclein (aS), implicated in Parkinson's disease, adopts a rich variety of different conformations depending on the macromolecular context. In order to unravel its pathophysiological role, monitoring its intracellular conformational state and identifying differences for the disease variants is crucial. Here, we present an intracellular spectroscopy approach based on a systematic spin-labeling site-scan in combination with intracellular electron paramagnetic resonance spectroscopy determining conformations on a molecular scale. A quantitative and model-based data analysis revealed that the vast majority of aS, be it wild-type or disease variants A30P or A53T, exists in the monomeric intrinsically disordered form in the cell.
April, 20, 2017
One enzyme, three metabolites: Shewanella algae controls siderophore production via the cellular substrate pool
Sina Rütschlin, Sandra Gunesch and Thomas Böttcher
Cell Chem Biol
20 April 2017, published online
The production of a particular siderophore from Shewanelle algae was investigated by researchers of CRC969 Project C06 and unravel a unique evolutionary strategy toward metabolite diversity.
Abstract
Shewanella algae B516 produces avaroferrin, an asymmetric hydroxamate siderophore, which has been shown to inhibit swarming motility of Vibrio alginolyticus. We aimed to elucidate the biosynthesis of this siderophore and to investigate how S. algae coordinates the production of avaroferrin and its two symmetric counterparts. We reconstituted the reaction in vitro with the main enzyme AvbD and the putative biosynthetic precursors, and demonstrate that multispecificity of this enzyme results in the production of all three cyclic hydroxamate siderophores that were previously isolated as natural products from S. algae. Surprisingly, purified AvbD exhibited a clear preference for the larger cadaverine-derived substrate. In live cells, however, siderophore ratios are maximized toward avaroferrin production, and we demonstrate that these siderophore ratios are the result of a regulation on substrate pool level, which may allow rapid evolutionary adaptation to environmental changes. Our results thereby give insights into a unique evolutionary strategy toward metabolite diversity.
March, 29, 2017
Alpha-Synuclein disease mutations are structurally defective and locally affect membrane binding
Martha Robotta, Julia Cattani, Juliana C Martins, Vinod Subramaniam and Malte Drescher
J Am Chem Soc
29 March 2017, published online
Researchers of Project C03 used electron paramagnetic resonance spectroscopy in combination with site-directed spin labeling to investigate the effect of single point mutations of alpha-Synuclein on the characteristics of membrane binding of this protein. Analysis of wild type and variants of the protein associated with familial Parkinson´s disease revealed that the disease-related alterations in  alpha-Synuclein result in locally distorted membrane binding properties of the protein (see also here).
Abstract
The intrinsically disordered human protein alpha-Synuclein (αS) has a prominent role in Parkinson's disease (PD) pathology. Several familial variants of αS are correlated with inherited PD. Disease mutations have been shown to have an impact on lipid membrane binding. Here, using electron paramagnetic resonance spectroscopy in combination with site-directed spin labeling, we show that familial PD-associated variants are structurally defective in membrane binding and alter the local binding properties of the protein.
March, 23, 2017
Biomolecular dynamics studied with IR-spectroscopy using quantum cascade lasers combined with nanosecond perturbation techniques
Alexander Popp, David Scheerer, Benjamin Heck and Karin Hauser
Spectrochim Acta A Mol Biol Spectrosc
23 March 2017, published online
Scientists from Research Project A02 report on their studies on early protein folding events using fast perturbation techniques.
Abstract
Early events of protein folding can be studied with fast perturbation techniques triggering non-equilibrium relaxation dynamics. A nanosecond laser-excited pH-jump or temperature-jump (T-jump) was applied to initiate helix folding or unfolding of poly-l-glutamic acid (PGA). PGA is a homopolypeptide with titratable carboxyl side-chains whose protonation degree determines the PGA conformation. A pH-jump was realized by the photochemical release of protons and induces PGA folding due to protonation of the side-chains. Otherwise, the helical conformation can be unfolded by a T-jump. We operated under conditions where PGA does not aggregate and temperature and pH are the regulatory properties of its conformation. The experiments were performed in such a manner that the folding/unfolding jump proceeded to the same PGA conformation. We quantified the increase/decrease in helicity induced by the pH-/T-jump and demonstrated that the T-jump results in a relatively small change in helical content in contrast to the pH-jump. This is caused by the strong pH-dependence of the PGA conformation. The conformational changes were detected by time-resolved single wavelength IR-spectroscopy using quantum cascade lasers (QCL). We could independently observe the kinetics for α-helix folding and unfolding in PGA by using different perturbation techniques and demonstrate the high sensitivity of time-resolved IR-spectroscopy to study protein folding mechanisms.
March, 20, 2017
Dienophile-modified mannosamine derivatives for metabolic labeling of sialic acids: A comparative study
Jeremias EGA Dold, Jessica Pfotzer, Anne-Katrin Späte and Valentin Wittmann
Chembiochem
20 March 2017, published online
Scientists from Project B05 compare the efficiency of metabolic labeling of sialic acids by different mannosamine derivatives.
Abstract
Sialic acids play an important role in numerous cell adhesion processes and sialylation levels are known to be altered under certain pathogenic conditions such as cancer. Metabolic glycoengineering with mannosamine derivatives is a convenient way to introduce non-natural chemical reporter groups into sialylated glycoconjugates offering the opportunity to label sialic acids using bioorthogonal ligation chemistry. The labeling intensity not only depends on the rate of the ligation reaction but also on the extent to which the natural sialic acids are replaced by the modified ones, i.e. the incorporation efficiency. Here we present a comparative study of eight mannosamine derivatives featuring terminal alkenes as chemical reporter groups that can be labeled by an inverse-electron-demand Diels-Alder (DAinv) reaction. The derivatives differ in chain length as well as the type of linkage (comprising carbamates, amides, and a urea) that connects the terminal alkene to the sugar. As a general trend, increasing chain lengths result in higher DAinv reactivity and at the same time reduced incorporation efficiency. Carbamates are better accepted than amides with the same chain length; nevertheless do the latter result in more intense cell-surface staining visible in life-cell fluorescence microscopy. Finally, a urea derivative was shown to be accepted.
March, 01, 2017
Phosphate-modified nucleotides for monitoring enzyme activity
Susanne Ermert, Andreas Marx and Stephan S Hacker
Top Curr Chem
01 March 2017, published online
Scientists from Research Project B08 report on their synthesis of various types of reporter nucleotides to monitor the activity of different kinds of enzymes.
Abstract
Nucleotides modified at the terminal phosphate position have been proven to be interesting entities to study the activity of a variety of different protein classes. In this chapter, we present various types of modifications that were attached as reporter molecules to the phosphate chain of nucleotides and briefly describe the chemical reactions that are frequently used to synthesize them. Furthermore, we discuss a variety of applications of these molecules. Kinase activity, for instance, was studied by transfer of a phosphate modified with a reporter group to the target proteins. This allows not only studying the activity of kinases, but also identifying their target proteins. Moreover, kinases can also be directly labeled with a reporter at a conserved lysine using acyl-phosphate probes. Another important application for phosphate-modified nucleotides is the study of RNA and DNA polymerases. In this context, single-molecule sequencing is made possible using detection in zero-mode waveguides, nanopores or by a Förster resonance energy transfer (FRET)-based mechanism between the polymerase and a fluorophore-labeled nucleotide. Additionally, fluorogenic nucleotides that utilize an intramolecular interaction between a fluorophore and the nucleobase or an intramolecular FRET effect have been successfully developed to study a variety of different enzymes. Finally, also some novel techniques applying electron paramagnetic resonance (EPR)-based detection of nucleotide cleavage or the detection of the cleavage of fluorophosphates are discussed. Taken together, nucleotides modified at the terminal phosphate position have been applied to study the activity of a large diversity of proteins and are valuable tools to enhance the knowledge of biological systems.
February, 22, 2017
Xenopus laevis Kif18A is a highly processive kinesin required for meiotic spindle integrity
Martin M Möckel, Andreas Heim, Thomas Tischer and Thomas U Mayer
Open Biol
22 February 2017, published online
In this study, researchers from Project B07 report on their characterization of the Kinesin-8 orthologue of human Kif18A, XI_Kif18A, in Xenopus laevis.
Abstract
The assembly and functionality of the mitotic spindle depends on the coordinated activities of microtubule-associated motor-proteins of the dynein and kinesin superfamily. Our current understanding of the function of motor-proteins is significantly shaped by studies using Xenopus laevis egg extract as its open structure allows complex experimental manipulations hardly feasible in other model systems. Yet, the Kinesin-8 orthologue of human Kif18A has not been described in Xenopus laevis so far. Here, we report the cloning and characterization of Xenopus laevis (Xl) Kif18A. Xenopus Kif18A is expressed during oocyte maturation and its depletion from meiotic egg extract results in severe spindle defects. These defects can be rescued by wildtype Kif18A, but not Kif18A lacking motor-activity or the C-terminus. Single molecule microscopy assays revealed that Xl_Kif18A possesses high processivity, which depends on an additional C-terminal microtubule-binding site. Human tissue culture cells depleted of endogenous Kif18A display mitotic defects, which can be rescued by wildtype, but not tail-less Xl_Kif18A. Thus, Xl_Kif18A is the functional orthologue of human Kif18A whose activity is essential for the correct function of meiotic spindles in Xenopus oocytes.
January, 10, 2017
Different enzymatic processing of γ-phosphoramidate and γ-phosphoester-modified ATP-analogues
Susanne Ermert, Stephan M. Hacker, Alexander Buntru, Martin Scheffner, Christof R. Hauck and Andreas Marx
Chembiochem
10 January 2017, published online
Scientists from CRC969 research Projects B08 and B06 analyzed the propensity of processing γ-phosphoester- and γ-phosphoramidate-modified ATP-analogues in ATPases from different enyzme classes.
Abstract
Monitoring the activity of ATP-consuming enzymes provides the basis for elucidating their modes of action and regulation. Although a number of ATP analogues have been developed for this, their scope is restricted because of the limited acceptance by respective enzymes. In order to clarify which kind of phosphate-modified ATP analogues are accepted by the α-β-phosphoanhydride-cleaving ubiquitin-activating enzyme 1 (UBA1) and the β-γ-phosphoanhydride-cleaving focal adhesion kinase (FAK), we tested phosphoramidate- and phosphoester-modified ATP analogues. UBA1 and FAK were able to convert phosphoramidate-modified ATP analogues, even with a bulky modification like biotin. In contrast, a phosphoester-modified analogue was poorly accepted. These results demonstrate that minor variations in the design of ATP analogues for monitoring ATP utilization have a significant impact on enzymatic acceptance.
December, 20, 2016
Newly translated proteins are substrates for ubiquitin, ISG15, and FAT10
Valentina Spinnenhirn, Annegret Bitzer, Annette Aichem and Marcus Groettrup
FEBS Lett
20 December 2016 published online
Researchers from CRC969-project C01show that the ubiquitin-like modifier FAT10 is conjugated to nascent proteins.
Abstract
The ubiquitin-like modifier, FAT10, is involved in proteasomal degradation and antigen processing. As ubiquitin and the ubiquitin-like modifier, ISG15, cotranslationally modify proteins, we investigated whether FAT10 could also be conjugated to newly synthesized proteins. Indeed, we found that nascent proteins are modified with FAT10, but not with the same preference for newly synthesized proteins as observed for ISG15. Our data show that puromycin-labeled polypeptides are strongly modified by ISG15 and less intensely by ubiquitin and FAT10. Nevertheless, conjugates of all three modifiers copurify with ribosomes. Taken together, we show that unlike ISG15, ubiquitin and FAT10 are conjugated to a similar degree to newly translated and pre-existing proteins.
December, 5, 2016
Multivalent contacts of the Hsp70 Ssb contribute to its architecture on ribosomes and nascent chain interaction
Marie A. Hanebuth, Roman Kityk, Sandra J. Fries, Alok Jain, Allison Kriel, Veronique Albanese, Tancred Frickey, Christine Peter, Matthias P. Mayer, Judith Frydman and Elke Deuerling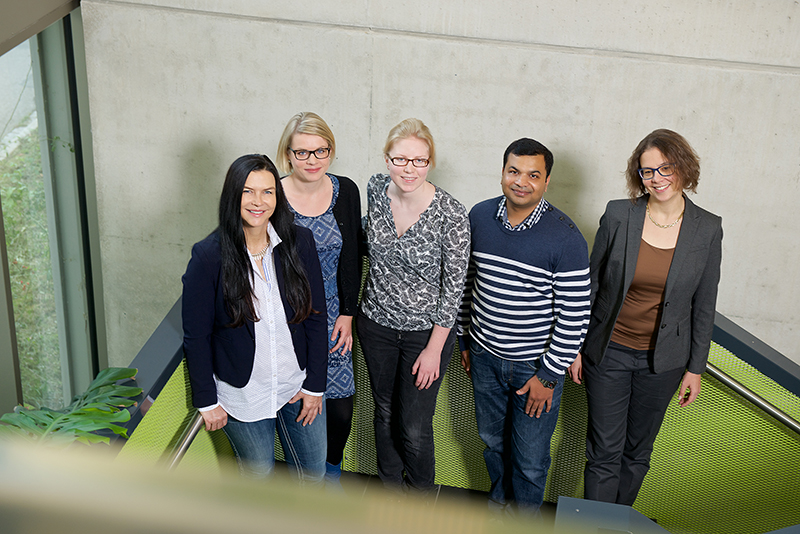 Scientists from Project A01 (Deuerling group) and Project B09 (Peter group)
Nat Commun
05 December 2016, published online
CRC969-Researchers from Projects A01 and B09 in collaboration with scientists from the University of Stanford solved the long-standing question about the structural basis and functional mode of recruitment of the Hsp70 chaperone Ssb to ribosomes in yeast cells.
Abstract
Hsp70 chaperones assist de novo folding of newly synthesized proteins in all cells. In yeast, the specialized Hsp70 Ssb directly binds to ribosomes. The structural basis and functional mode of recruitment of Ssb to ribosomes is not understood. Here, we present the molecular details underlying ribosome binding of Ssb in Saccharomyces cerevisiae. This interaction is multifaceted, involving the co-chaperone RAC and two specific regions within Ssb characterized by positive charges. The C-terminus of Ssb mediates the key contact and a second attachment point is provided by a KRR-motif in the substrate binding domain. Strikingly, ribosome binding of Ssb is not essential. Autonomous ribosome attachment becomes necessary if RAC is absent, suggesting a dual mode of Ssb recruitment to nascent chains. We propose, that the multilayered ribosomal interaction allows positioning of Ssb in an optimal orientation to the tunnel exit guaranteeing an efficient nascent polypeptide interaction.
September, 29, 2016
Analyzing structure-function relationships of artificial and cancer-associated PARP1 variants by reconstituting TALEN-generated HeLa PARP1 knock-out cells
Lisa Rank, Sebastian Veith, Eva C. Gwosch, Janine Demgenski, Magdalena Ganz, Marjolijn C. Jongmans, Christopher Vogel, Arthur Fischbach, Stefanie Buerger, Jan M.F. Fischer, Tabea Zubel, Anna Stier, Christina Renner, Michael Schmalz, Sascha Beneke, Marcus Groettrup, Roland P. Kuiper, Alexander Bürkle, Elisa Ferrando-May and Aswin Mangerich
Nucleic Acids Res
29 September 2016, published online
CRC 969-Researchers, Project C01 and former Project B04, together with colleagues from Univerity of Leiden and University of Utrecht, report on their studies on deletion of PARP1 by using TALEN-mediated gene targeting in HeLa cells which allows new research on PARylation.
Abstract
Genotoxic stress activates PARP1, resulting in the post-translational modification of proteins with poly(ADP-ribose) (PAR). We genetically deleted PARP1 in one of the most widely used human cell systems, i.e. HeLa cells, via TALEN-mediated gene targeting. After comprehensive characterization of these cells during genotoxic stress, we analyzed structure–function relationships of PARP1 by reconstituting PARP1 KO cells with a series of PARP1 variants. Firstly, we verified that the PARP1\E988K mutant exhibits mono-ADP-ribosylation activity and we demonstrate that the PARP1\L713F mutant is constitutively active in cells. Secondly, both mutants exhibit distinct recruitment kinetics to sites of laser-induced DNA damage, which can potentially be attributed to non-covalent PARP1–PAR interaction via several PAR binding motifs. Thirdly, both mutants had distinct functional consequences in cellular patho-physiology, i.e. PARP1\L713F expression triggered apoptosis, whereas PARP1\E988K reconstitution caused a DNA-damage-induced G2 arrest. Importantly, both effects could be rescued by PARP inhibitor treatment, indicating distinct cellular consequences of constitutive PARylation and mono(ADP-ribosyl)ation. Finally, we demonstrate that the cancer-associated PARP1 SNP variant (V762A) as well as a newly identified inherited PARP1 mutation (F304L\V762A) present in a patient with pediatric colorectal carcinoma exhibit altered biochemical and cellular properties, thereby potentially supporting human carcinogenesis. Together, we establish a novel cellular model for PARylation research, by revealing strong structure–function relationships of natural and artificial PARP1 variants.
July, 28, 2016
Real-time cellular imaging of protein poly(ADP-ribos)ylation
Annette Buntz, Sarah Wallrodt, Eva Gwosch, Michael Schmalz, Sascha Beneke, Elisa Ferrando-May, Andreas Marx and Andreas Zumbusch
Angew Chemie Int Ed
28 July 2016, published online
Researchers from CRC 969 Project B08 and former Project B04 publish a novel technique to monitor poly(ADP-ribos)ylation in living cells.
Abstract
Poly(ADP-ribos)ylation (PARylation) is an important posttranslational protein modification, and is involved in major cellular processes such as gene regulation and DNA repair. Its dysregulation has been linked to several diseases, including cancer. Despite its importance, methods to observe PARylation dynamics within cells are rare. By following a chemical biology approach, we developed a fluorescent NAD+ analogue that proved to be a competitive building block for protein PARylation in vitro and in cells. This allowed us to directly monitor the turnover of PAR in living cells at DNA damage sites after near-infrared (NIR) microirradiation. Additionally, covalent and noncovalent interactions of selected target proteins with PAR chains were visualized in cells by using FLIM-FRET microscopy. Our results open up new opportunities for the study of protein PARylation in real time and in live cells, and will thus contribute to a better understanding of its significance in a cellular context.
July, 11, 2016
Direct monitoring of β-sheet formation in the outer membrane protein TtoA assisted by TtOmp85
Katharina Henke, Wolfram Welte and Karin Hauser
Biochemistry
11 July 2016, published online
CRC 969-researchers, Project A02 and former Project A03, published their studies on the folding mechanism of the outer membrane protein TtoA via ATR-FTIR.
Abstract
Attenuated total reflection Fourier-transform infrared (ATR-FTIR) spectroscopy was applied to investigate the folding of an outer membrane protein, TtoA, assisted by TtOmp85, both from the thermophilic eubacterium Thermus thermophilus. To directly monitor the formation of β-sheet structure in TtoA and to analyze the function of TtOmp85, we immobilized unfolded TtoA on an ATR crystal. Interaction with TtOmp85 initiated TtoA folding as shown by time-dependent spectra recorded during the folding process. Our ATR-FTIR experiments prove that TtOmp85 possesses specific functionality to assist β-sheet formation of TtoA. We demonstrate the potential of this spectroscopic approach to study the interaction of outer membrane proteins in vitro and in a time-resolved manner.
June, 17, 2016
Exploring the potential of Norbornene-modified Mannosamine derivatives for metabolic glycoengineering
Anne-Katrin Späte, Jeremias E.G.A. Dold, Ellen Batroff, Verena F. Schart, Daniel E. Wieland, Oliver R. Baudendistel and Valentin Wittmann
ChemBioChem
17 June 2016, published online
CRC 969-researchers, Project B05, publish studies on the use of norbornenes for metabolic glycoengineering.
Abstract
Metabolic glycoengineering (MGE) allows the introduction of unnaturally modified carbohydrates into cellular glycans and their visualization through bioorthogonal ligation. Alkenes, for example, have been used as reporters that can react through inverse-electron-demand Diels–Alder cycloaddition with tetrazines. Earlier, norbornenes were shown to be suitable dienophiles; however, they had not previously been applied for MGE. We synthesized two norbornene-modified mannosamine derivatives that differ in the stereochemistry at the norbornene (exo/endo linkage). Kinetic investigations revealed that the exo derivative reacts more than twice as rapidly as the endo derivative. Through derivatization with 1,2-diamino-4,5-methylenedioxybenzene (DMB) we confirmed that both derivatives are accepted by cells and incorporated after conversion to a sialic acid. In further MGE experiments the incorporated sugars were ligated to a fluorophore and visualized through confocal fluorescence microscopy and flow cytometry.
June, 02, 2016
Synthetic glycosphingolipids for live-cell labeling
Martin Dauner, Ellen Batroff, Verena Bachmann, Christof R. Hauck and Valentin Wittmann
Bioconjugate Chem
02 June 2016, published online
CRC 969-researchers, Project B05 and Project B06, report on their results on the synthesis of novel probes to label cells in vivo.
Abstract
Glycosphingolipids are an important component of cell membranes that are involved in many biological processes. Fluorescently labeled glycosphingolipids are frequently used to gain insight into their localization. However, the attachment of a fluorophore to the glycan part or—more commonly—to the lipid part of glycosphingolipids is known to alter the biophysical properties and can perturb the biological function of the probe. Presented here is the synthesis of novel glycosphingolipid probes with mono- and disaccharide head groups and ceramide moieties containing fatty acids of varying chain length (C4 to C20). These glycosphingolipids bear an azide or an alkyne group as chemical reporter to which a fluorophore can be attached through a bioorthogonal ligation reaction. The fluorescent tag and any linker connected to it can be chosen in a flexible manner. We demonstrate the suitability of the probes by selective visualization of the plasma membrane of living cells by confocal microscopy techniques. Whereas the derivatives with the shorter fatty acids can be directly applied to HEK 293T cells, the hydrophobic glycosphingolipids with longer fatty acids can be delivered to cells using fusogenic liposomes.
Sarah Wallrodt, Annette Buntz, Yan Wang, Andreas Zumbusch and Andreas Marx
Angew Chem Int Ed
15 April 2016, published online
CRC 969-researchers, Project B08, report on their synthesis of NAD+ analogues to visualize poly(ADP-ribosyl)ation in vivo.
Abstract
Poly(ADP-ribos)ylation (PARylation) is a major posttranslational modification and signaling event in most eukaryotes. Fundamental processes like DNA repair and transcription are coordinated by this transient polymer and its binding to proteins. ADP-ribosyltransferases (ARTs) build complex ADP-ribose chains from NAD+ onto various acceptor proteins. Molecular studies of PARylation thus remain challenging. Herein, we present the development of bioorthogonally functionalized NAD+ analogues for the imaging of PARylation in vitro and in cells. Our results show that 2-modified NAD+ analogues perform remarkably well and can be applied to the in-cell visualization of PARylation simultaneously in two colors. This tool gives insight into the substrate scope of ARTs and will help to further elucidate the biological role of PARylation by offering fast optical, multichannel read-outs.
Anionic surfactants enhance click reaction-mediated protein conjugation with ubiquitin
Daniel Schneider, Tatjana Schneider, Joos Aschenbrenner, Franziska Mortensen, Martin Scheffner and Andreas Marx
Bioorg Med Chem
01 March 2016, Vol 24, 995 – 1001
CRC 969-researchers, Project B03, report on their modification of Cu(I)-catalyzed alkyne-azide cycloaddition that results in higher yields while retaining functionality of conjugates.
Abstract
The Cu(I)-catalyzed alkyne-azide cycloaddition (CuAAC) has become increasingly important in the conjugation chemistry of biomolecules. For example, it is an efficient and convenient method to generate defined ubiquitin-protein conjugates. Here, we investigate the effect of surfactants on the efficiency of CuAAC for chemical protein ubiquitylation. We found that anionic surfactants enhance conjugate formation by up to 10-fold resulting in high yields even at low (i.e., micromolar) concentrations of the reactants. Notably, the herein investigated conjugates are functional and thus properly folded.
Endocytosis and endosomal trafficking of DNA after gene electrotransfer in vitro.
Christelle Rosazza, Hendrik Deschout, Annette Buntz, Kevin Braeckmans, Marie-Pierre Rols and Andreas Zumbusch
Mol Ther Nucleic Acids
09 February 2016, published online
CRC 969-researchers, Project B08, together with scientists from France and Belgium published their studies on the mechanism of internalization of DNA upon electrotransfer.
Abstract
DNA electrotransfer is a successful technique for gene delivery into cells and represents an attractive alternative to virus-based methods for clinical applications including gene therapy and DNA vaccination. However, little is currently known about the mechanisms governing DNA internalization and its fate inside cells. The objectives of this work were to investigate the role of endocytosis and to quantify the contribution of different routes of cellular trafficking during DNA electrotransfer. To pursue these objectives, we performed flow cytometry and single-particle fluorescence microscopy experiments using inhibitors of endocytosis and endosomal markers. Our results show that ~50% of DNA is internalized by caveolin/raft-mediated endocytosis, 25% by clathrin-mediated endocytosis, and 25% by macropinocytosis. During active transport, DNA is routed through multiple endosomal compartments with, in the hour following electrotransfer, 70% found in Rab5 structures, 50% in Rab11-containing organelles and 30% in Rab9 compartments. Later, 60% of DNA colocalizes with Lamp1 vesicles. Because these molecular markers can overlap while following organelles through several steps of trafficking, the percentages do not sum up to 100%. We conclude that electrotransferred DNA uses the classical endosomal trafficking pathways. Our results are important for a generalized understanding of gene electrotransfer, which is crucial for its safe use in clinics.
February, 28, 2014
Stability of the Thermus thermophilus outer membrane protein TtoA against heat and denaturants
Katharina Henke, Meike Odermatt, Wolfram Welte & Karin Hauser
Biomedical Spectroscopy and Imaging
Published Online 28 February 2014 | Print edition: Vol 3(1):51-56
Researchers of the CRC 969, Projects A02 and A03, report on their FT-IR spectroscopy and SDS PAGE analysis of the stability of the outer membrane protein TtoA.
TtoA is a major outer membrane protein (Omp) with β-barrel structure from the thermophilic eubacterium T. thermophilus. FT-IR spectroscopy and SDS PAGE analysis were used to monitor the stability of detergent-solubilised TtoA under denaturing conditions. Heat as well as the common denaturants urea and SDS were applied to affect the TtoA structure. The protein has proven to be extremely thermostable in its native form. Denaturants likewise only have little effects on the protein's structure. In detail, a SDS concentration of 1% as is typical for Laemmli buffer does not have an impact on the structure of TtoA, even in combination with a temperature of 99°C. The same holds true for urea concentrations below 8 M. Only the combination of highly concentrated urea or SDS in combination with incubating the protein at 99°C for 10 minutes leads to a change of the secondary structure in TtoA.